Services
Ad campaign
Art direction
Creative strategy
UX/UI design
Website development
Media buying / OOH
Digital marketing & performance
Press & social execution
Event & venue coordination
Influencer marketing
This summer when every other venue was down, Sawdust was up. Rareview delivered an increase in revenue and a huge 24% increase in digital after several years of decline.
— Carrie Woodburn, Board Member
---
Awards and recognition
---
Our relationship and challenge.
In 2019, Sawdust engaged Rareview to help engage people and increase awareness and revenue for the festival.
As the Sawdust Festival agency, our goal was to inspire people to think differently about this iconic festival while introducing new and affluent customers to the process of making original art. With over 50 years of history in Laguna Beach, the Sawdust Art Festival reached out to Rareview to engage in a new and innovative approach to reinvigorating the festival, re-framing its value, and building on an experience that is unlike anything else people have encountered.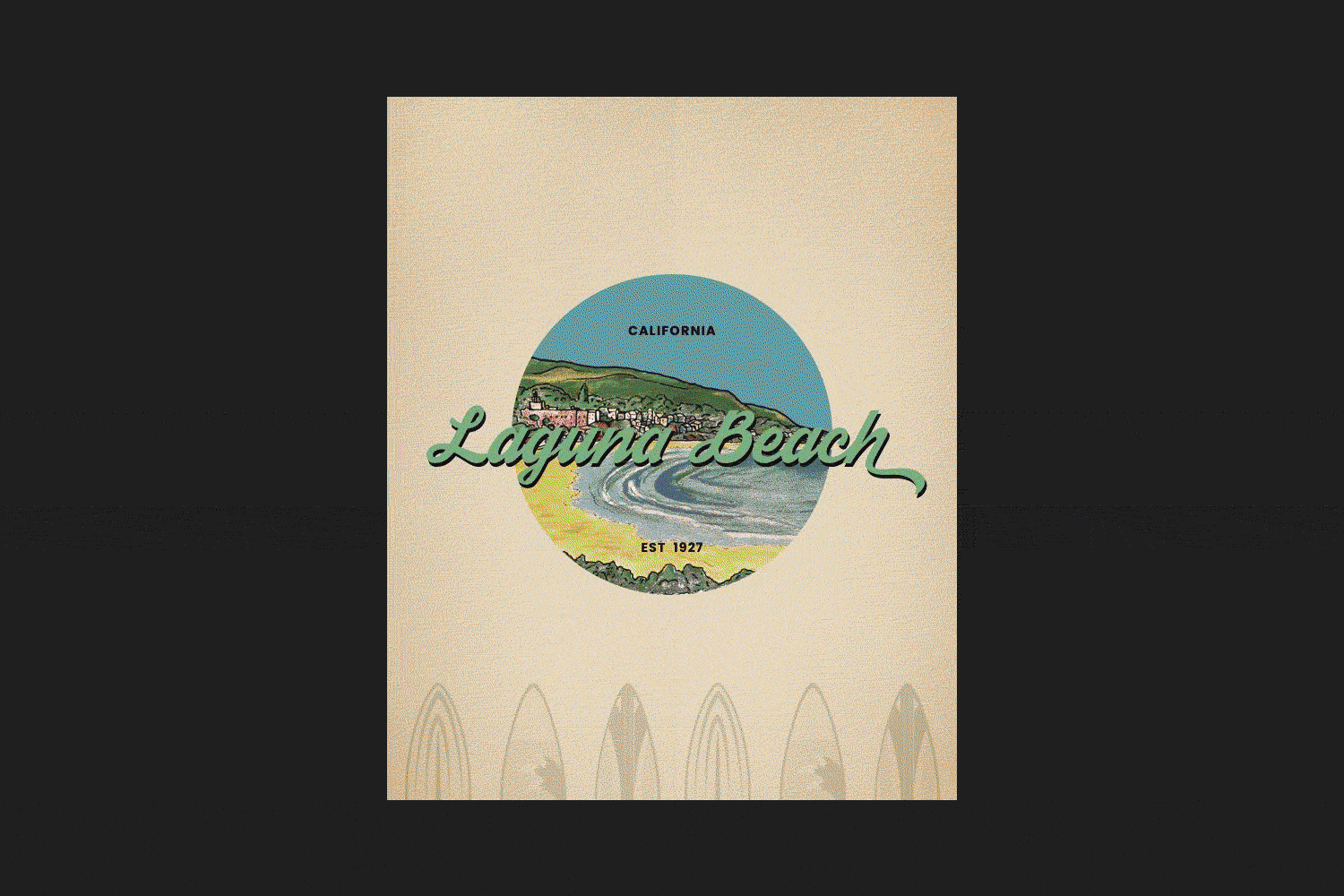 Our teams worked together to shift the overall initiatives of the festival to focus on the channels and platforms that mattered, incorporating both online and offline with a cohesive message that set out to inspire customers to look at the "Artist and Makers" in a new and compelling way.
---
A new approach.
Our interactive experience introduced 10 artists and categories framed around the process of making art. 2019 Sawdust Festival was centered around "expecting the unexpected". It means that during the process of creating art, unexpected things happen, and that is what makes it unique and beautiful.
Imperfections are beautiful. The unexpected is original.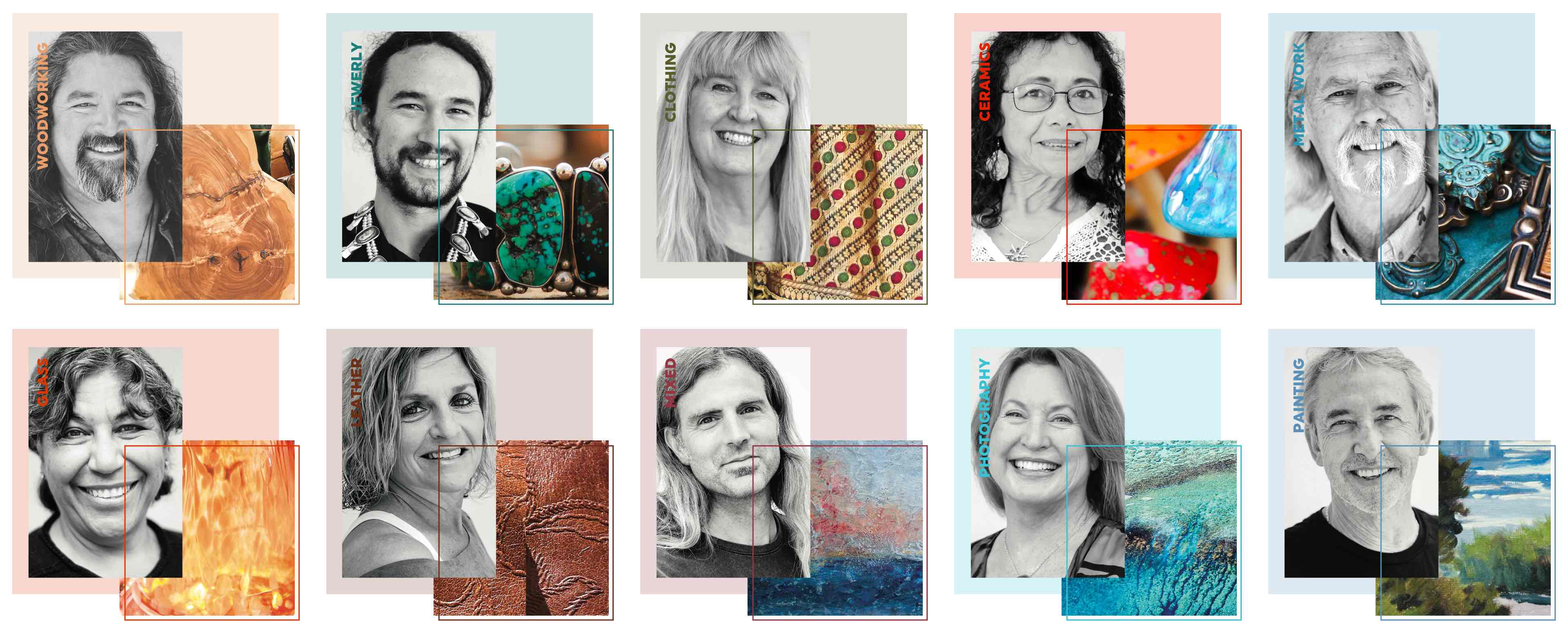 ---
I. Creative concepts.
This year's concepts were about the process of making art, where you see it created, watch the artists, and learn. In 2019 we highlighted the uniqueness in the craft, driven by the makers.
Concept development
Everyone is an artist, tapping into that creative power changes the way we view the world. We used this to showcase Sawdust as a destination for original works of art.
---
II. Art direction.
After multiple creative suggestions and ideas, we settled on what we called the "blades" concept. It features 10 artists in 10 different mediums and intermixes the artist themselves with their art. It's visually interesting and catches your eye as it looks a bit "unexpected," and also associates individual artistic skill with personality.
---
III. Landing pages.
We brought these top performing, award-winning landing pages to life by focusing on selling tickets, highlighting our top 10 categories and artists, and engaging users with animation.
With a mobile-first approach, our focus was to inform and convert digital traffic.
III. OOH and print media.
We blanketed Southern California with online and out-of-home advertisements, including aerial banners flown above all beaches during summer, cinema ads, bar and gas station ads, digital billboards, and more. These efforts helped people better understand the experience that Sawdust offers.
The shelters over-delivered impressions from 20MM booked to 60MM delivered with units across all Southern California.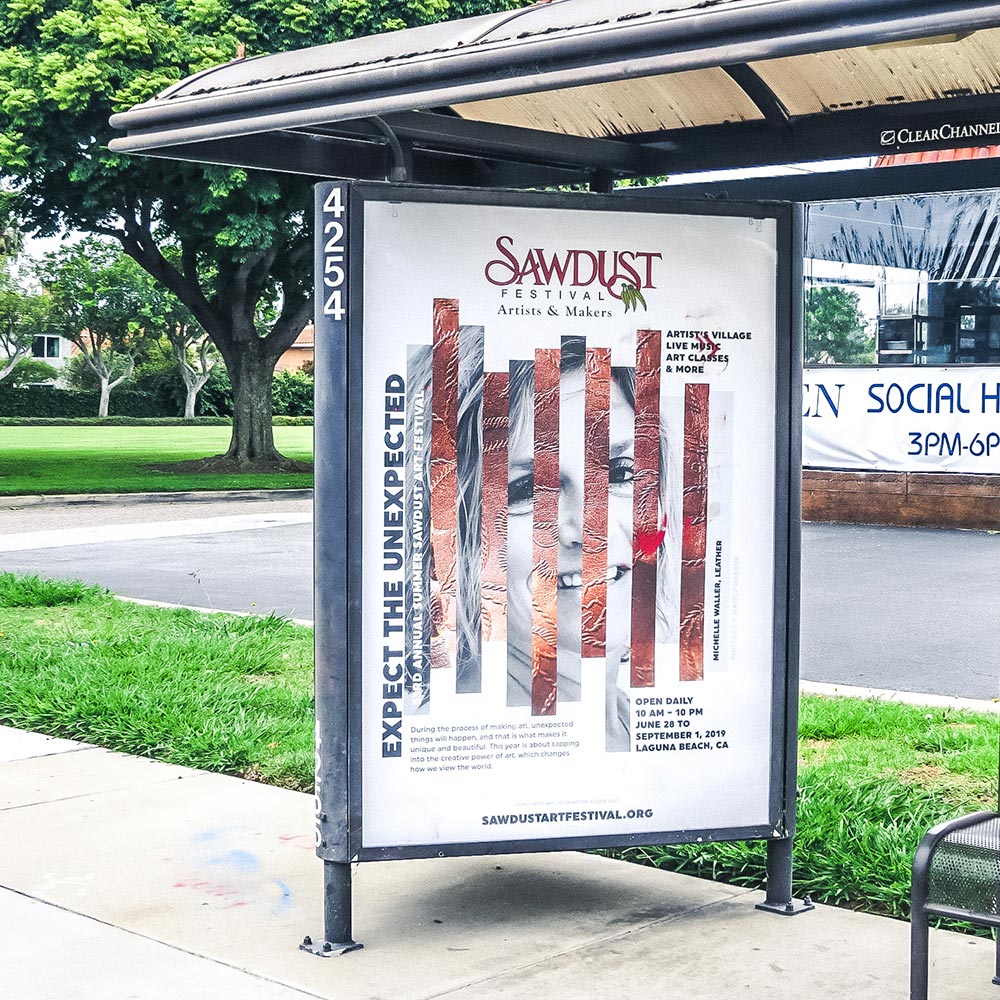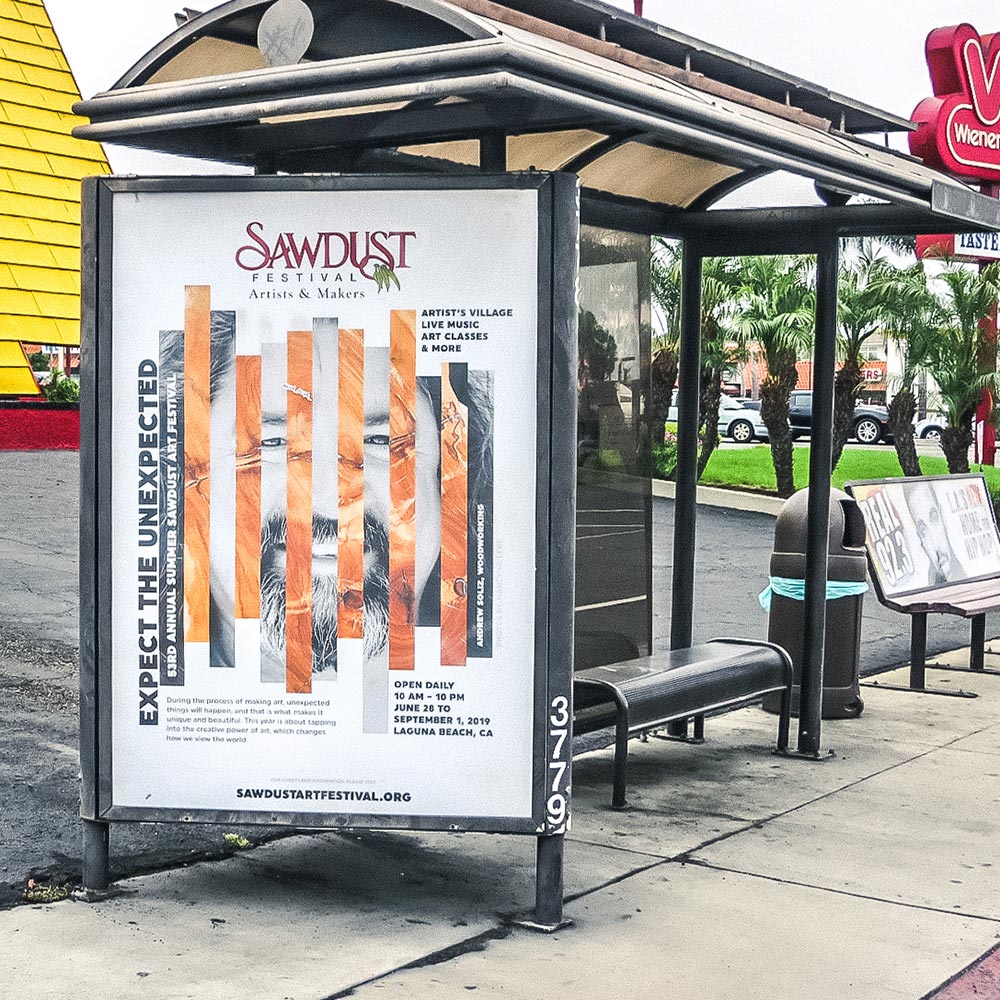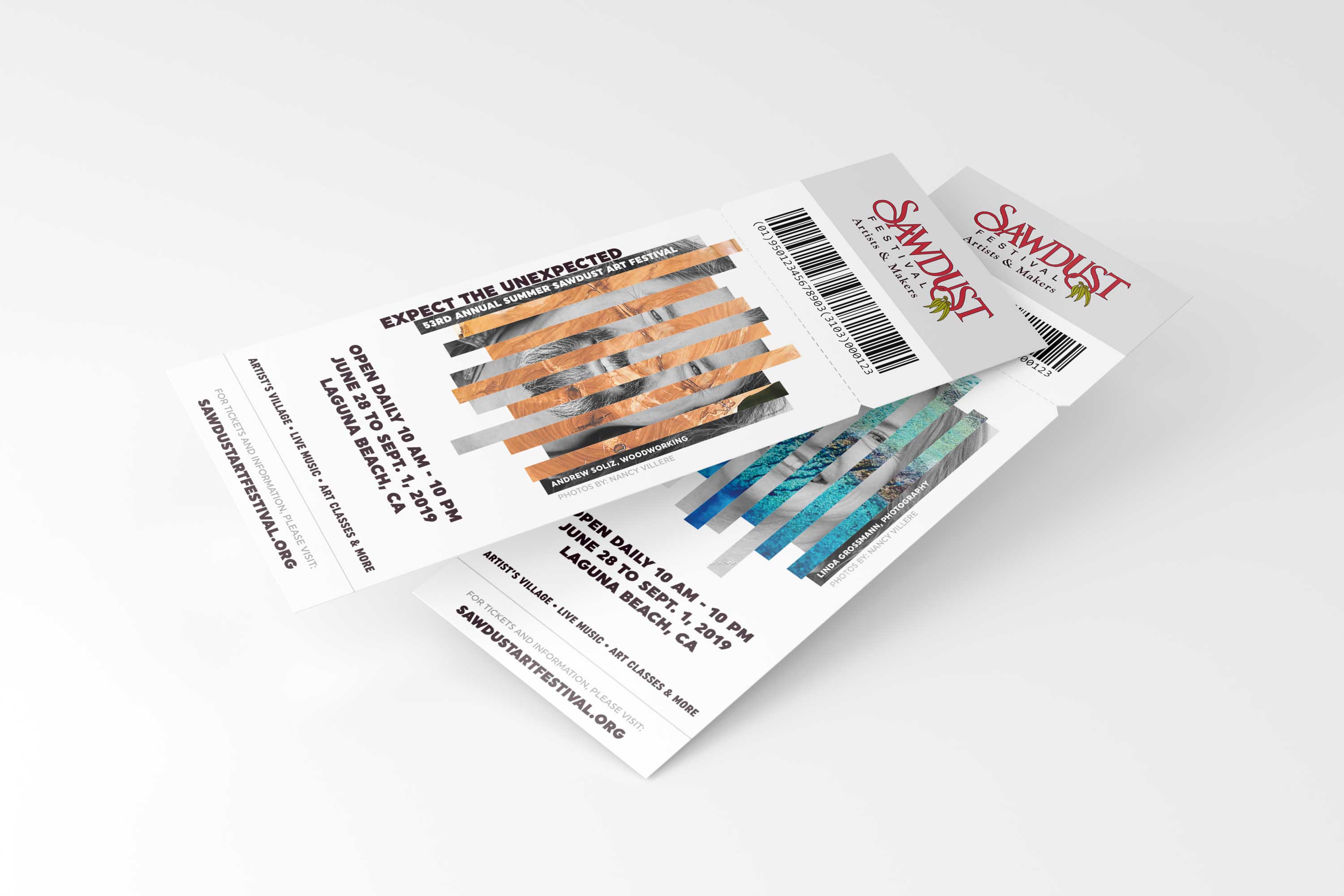 ---
IV. Digital marketing.
We took a fully integrated approach to digital marketing and supplemented all our efforts with offline extensions. Our approach was thoughtful and we wanted to inform, encourage, and excite customers to attend the festival.
Refocusing the Sawdust Art Festival's brand and its effect on the art world helped create conversations centered around original pieces, individual artists who are dedicated to their craft, and customers looking for something more.
Our phased-approach:
Initial testing phase
Peak season
Final push
The approached dictated how we messaged people using a sense of urgency, while keeping traffic flowing daily throughout the festival. We shifted budgets to drive daily optimizations and ticket sales. We launched fully immersive mobile ads across all social platforms, utilized display, retargeting, social ads, content, geo-targeting, google ads, and aggressive testing across all mediums.
With over 250 ad variations and 1,000's of images, videos, and text options, all driving to dedicated experiences or landing pages, we tested and optimized constantly to drive the best conversions with the least amount of waste around marketing spend.
All of this resulted in the best year Sawdust has had in the last 4 years. While most venues saw a decrease in sales and traffic this summer, Sawdust was up across all metrics and KPI's.
---
V. PR and social influencers.
It was fun and exciting to see more than 30 pieces of unique coverage secured including 8 print placements (with a limited lead time) and 3 broadcast segments across major local affiliate networks – NBC, FOX, and Spectrum. The highlights of our campaign were the feature-driven stories in the Los Angeles Times, OC Weekly and Laguna Beach Indy with national placement secured in Travel + Leisure.com.
---
We secured 41 million media impressions, 30+ pieces of unique coverage, 8 print placements, and 3 broadcast segments including NBC, FOX and Spectrum.
---
KNBC TV and FOX showcase the Sawdust Festival.
Explore a Quaint, Art-y Village at the Sawdust.
Yep, there's actually sawdust on the ground, and art all around, at this charming and fanciful fair.
---
"Things are heating up at the Sawdust Art Festival."
---
LA Times features the Sawdust Festival.
---
Influencers have "field" day at Sawdust.
We kicked off Sawdust's first influencer program that generated close to 200k in social media reach and engagement.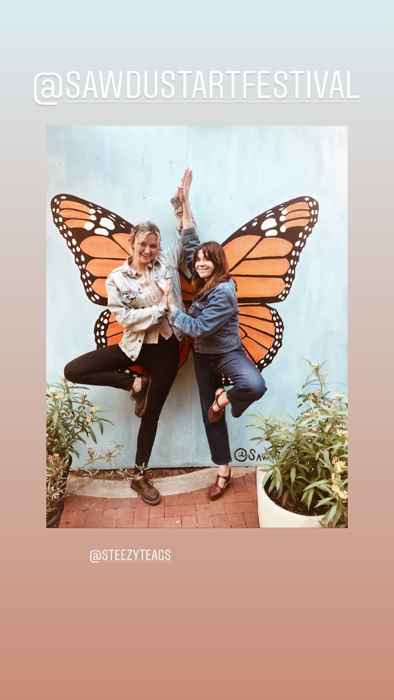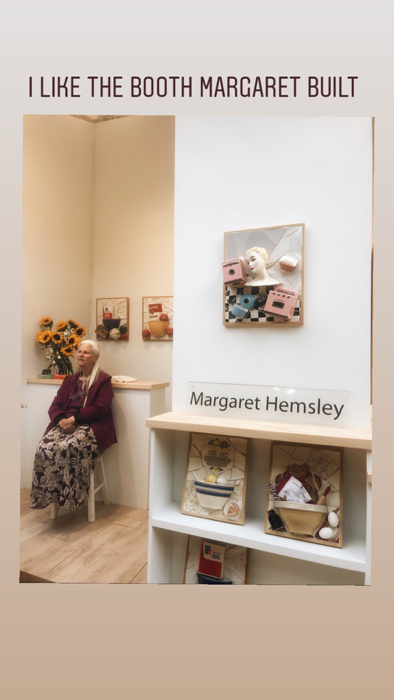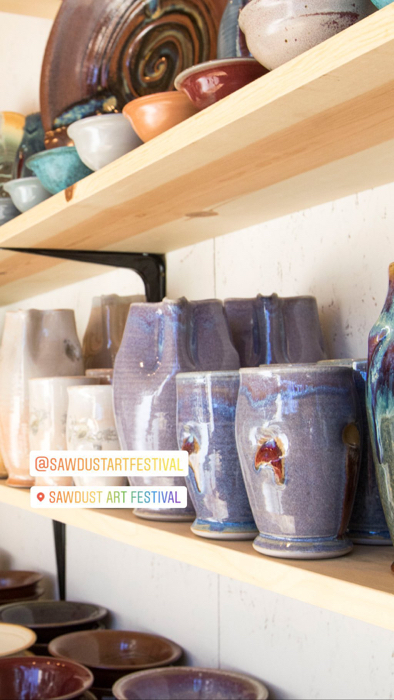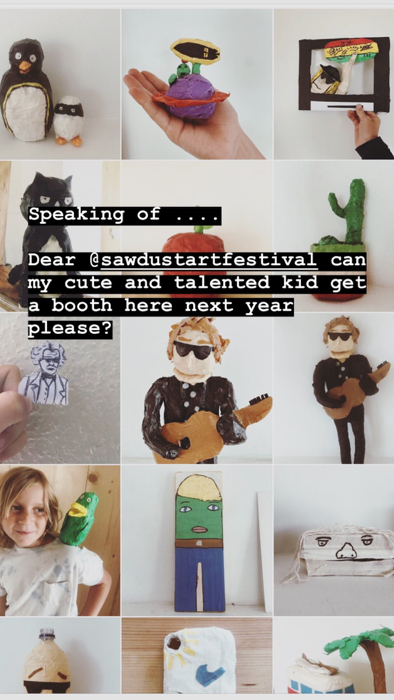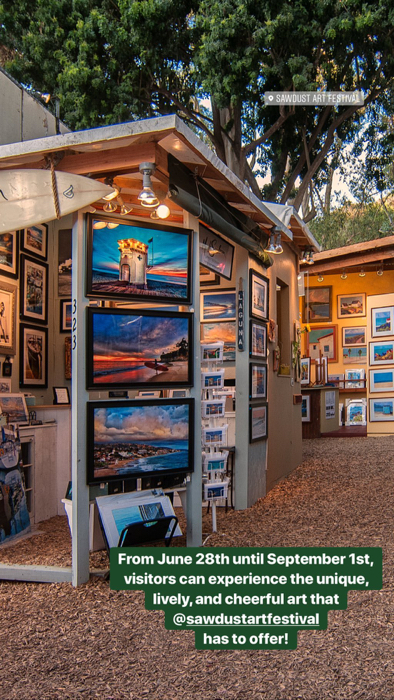 ---
Outcome: 2019 was a turn-around year for Sawdust.
Finishing 2019 year with amazing results, Sawdust is primed for the coming years. With a lift in revenue, attendance, digital growth, and a footprint of over 105MM impressions — Sawdust is now focused on keeping original art and its makers at the forefront of Southern California culture.