Award-Winning Design Team
Creative without compromise
Our award-winning UX/UI design team has designed products and websites for Venture-backed startups and Fortune 500 companies like Epson, Toyota, Oracle, REI, and Bosch.
User Experience Design (UX)
The trouble with users is, they're so very human. Until robots solve that problem, designers are at the mercy of catering to their human-ness. We embrace this and make user experiences that celebrate the human condition. Whether we are designing for the consumer or the admin on the backend, we channel human insight and robust data into creating functional experiences across your brand's entire ecosystem. And we make sure these experiences are useful and intuitive. We throw in a little joy and glee while we're at it. For us it's about diving deep into user behaviors and experiences to architect digital products that just make sense. This mindset guides everything we do.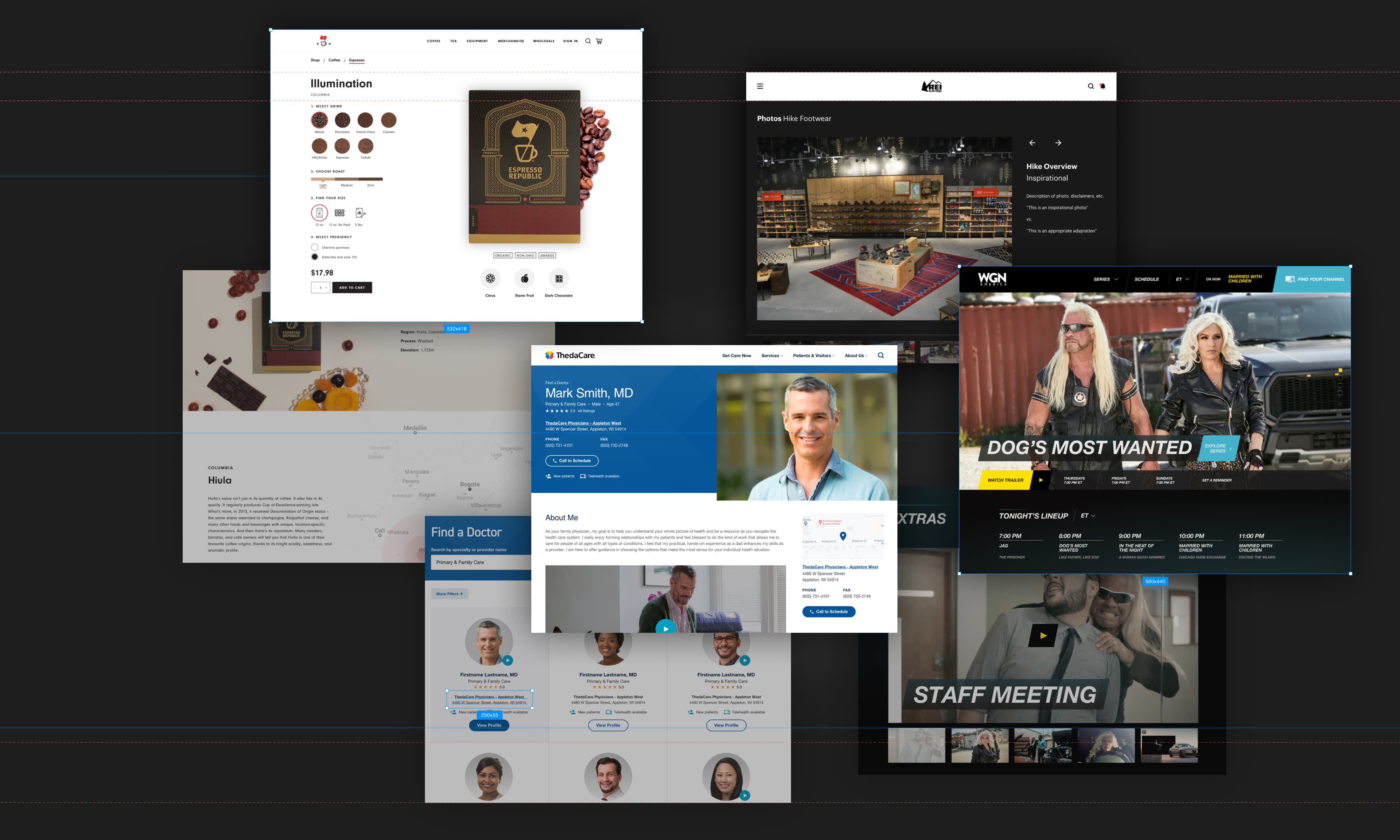 Interface Design (UI)
Some say pencil and paper sketching is dead. Well…not at Rareview. We've come up with some of our best work by doodling. Then we transform our ideas into conceptual designs to hone in on visual elements and a functional UI design. Our design system is a glorious example of teamwork. We've got style elements like fonts and colors playing nicely with technical code components, united in one goal to achieve a cohesive experience for all users. When we create a modular design system, we feel like seasoned coaches making digital playbooks that are dynamic and unique. We instill core standards into every play, ensuring the systems are intelligent and resilient. Most importantly, we make sure every system we design is scalable across your brand's products and technologies. Because we're in the business of growing your user base. Of creating immediate and lasting value. Of designing for form and function.
Branding
We are experts in how design shapes a brand. We are driven by precision, innovation and radical simplicity. We start each project with this embarrassingly simple question: what is the problem we are trying to solve? It's a question that sets an attitude of discovery, aligning our team with your vision and purpose. From there, we move to a strategy phase, filled with customer research, testing, late nights and meetings that make sense. During this process, we get some answers. Then the engines really start revving and we dive into actual design. You know, making squiggly lines, fiddling with colors, fooling with fonts—the kind of stuff designers do. Definitely nothing skilled or complex. Not. At. All.
---
Awards
We believe in results, plain and simple. We've built a reputation of excellence and have been recognized with many of our industry's prestigious awards, which bring value and validation to the brands we work with and the individuals involved. Here are some of the more notable design awards Rareview has won.
---
The Webby Awards
---
The FWA
---
Awwwards
---
Hermes Creative Awards
---
MUSE Creative Awards by IAA
---
Ramblings on design.
When it comes to design, people want the finished product to do something useful. And that's brilliant. But then, almost as an afterthought, they slip in a little request: Hey, while you're at it, can you also try to make it look good, too? If possible? Almost as if revealing the slight hunch that design can only do one thing well—it can either look good or do something good. But not both.
Not everyone puts in the effort to think about why they do things. But we settled down in comfy chairs to think about design and how to do it well. And what did many scribblings and cups of coffee lead us to believe? It's not acceptable to sacrifice the look at the expense of functionality. Nor is it OK to produce something beautiful that doesn't function. Good design should do both.
Good design links people physically to your brand in a way they can see and touch, but also feel on a deeper level. So we simplify things and tap into that core experience. We believe good design has a basic instinct to make things better. It evolves ideas. It makes people feel. It makes their lives easier. It makes them say yes. It makes them hungry for more.
Our design team makes things that look nice. We make things that are useful. We make complex things seem simple. We also make things that sell. Things that take your brand to the next level. Creativity, without the compromise.
---
Top-tier design talent. We consider Rareview a leading design agency.
Josh Lanin, Senior Director
---
Additional design services.
Creative content + production
We're storytellers at heart. It's an art, really. The ability to showcase video, photography, email design, product creative and marketing onto one canvas that gets the world talking. Handled by an in-house team, we equip all content with consistency, strategy and the perfect balance between marketing and design to make your brand shine.
Banner Ads
In case you missed it, these days we have things called websites. People visit them and see your brand advertised right on the page. And they click on it. And they're dazzled. It's a brilliant system. Even better? We know the ins and outs to make banner content really work. This ad staple takes skill, and we've got loads of it.
Landing pages
This all-important page is a destination. A respite for a weary web traveler who will only be too happy to take shelter on your amazing page. But making these marketing tools intuitive and effective is essential to capturing customer attention. That's where we come in. We help people stop and say, hey, I love it here. Stay awhile, friend.
Print design
People connect with brands in different ways. It's mysterious and wonderful. When we create logos, product packaging, icons, bus wraps, posters and more, we not only help brands express themselves, but we also help them create a bond with their customers and communities. We believe in taking an agile approach so we can meet people where they're at and reach them in impactful ways.
Email design
With so many people drowning in a sea of email, it's an essential case of sink-or-swim to get it right. In an ocean of mediocrity, we are the speedboat. The thing that will jolt life into your email's look, feel and function to drive real results. Think of us as the breath of fresh air that your brand will take when it reaches the surface of an inbox. So refreshing.
Photo and video
Our photography and video production crews shoot cinematic quality footage that allows us to tell your story. We are intentional about connecting brands and people through story. Using media, content, and photography we strike the perfect balance between tone, voice, and art. There is no substitute for high-quality, cinematic video, photography, and production in building your brand and conveying your message through storytelling and engaging content.
Frictionless user experiences and eye-catching visual design.
That's our goal. It's that simple. Let people navigate your product without friction while standing back and saying "awe yes, this is beautiful."
2002
Rareview was established in 2002. For 17 years our agency has designed and built amazing products that have been used by millions of people around the world. We consider longevity a serious accomplishment.
17
Design and marketing awards and counting. They go on the shelf and are often forgotten, but we're proud of our achievements and pedigree.
2.5
We're not a single project agency. We create long-term relationships with brands and companies. Our typical relationship lasts over 2.5 years.
5
Rareview has offices in 5 cities across the US. We're headquartered in sunny Newport Beach, CA., but have a presence everywhere it counts.
2
We're run by 2 brothers. They're kinda funny, kinda brash, and very results-driven. Our team is an extension of your family.
141%
YoY revenue growth for one of our fashion clients. These numbers are typical with Rareview. We push hard for tangible results and not just fluff.