CertifiedWordPress VIP partner agency.
WordPress + Rareview.
As a WordPress Gold Agency Partner, we deliver WordPress solutions at scale. We're certified, code-checked, and trusted by today's top companies. We build digital experiences on the most popular platform in the world; trusted by the world's top brands.
We adhere to strict code requirements. Security is paramount on our projects and our dev teams are always available with our white glove service. Our teams are constantly involved and utilizing leading-edge technology standards, processes, and methods.

Being part of a limited and exclusive group of WordPress VIP partners hand-selected by VIP and Automattic (owners of WordPress.com), allows Rareview to open doors for our clients that otherwise might not be there. Our teams work directly with WordPress VIP to offer support, technical assistance, and opportunities for growth and partnerships.

Our VIP work is geared towards mid to large-sized companies working on Enterprise projects. Utilizing the power of open-source, the platform is highly available with robust APIs. We connect WordPress to all kinds of systems and processes, including mobile apps and decoupled front-ends. The possibilities are endless.

For years our team has been a key participant in WordPress events. We've spoken at WordCamps and are core contributors. As WordPress VIP partners we participate in meetups and discuss all things relating to the WordPress platform.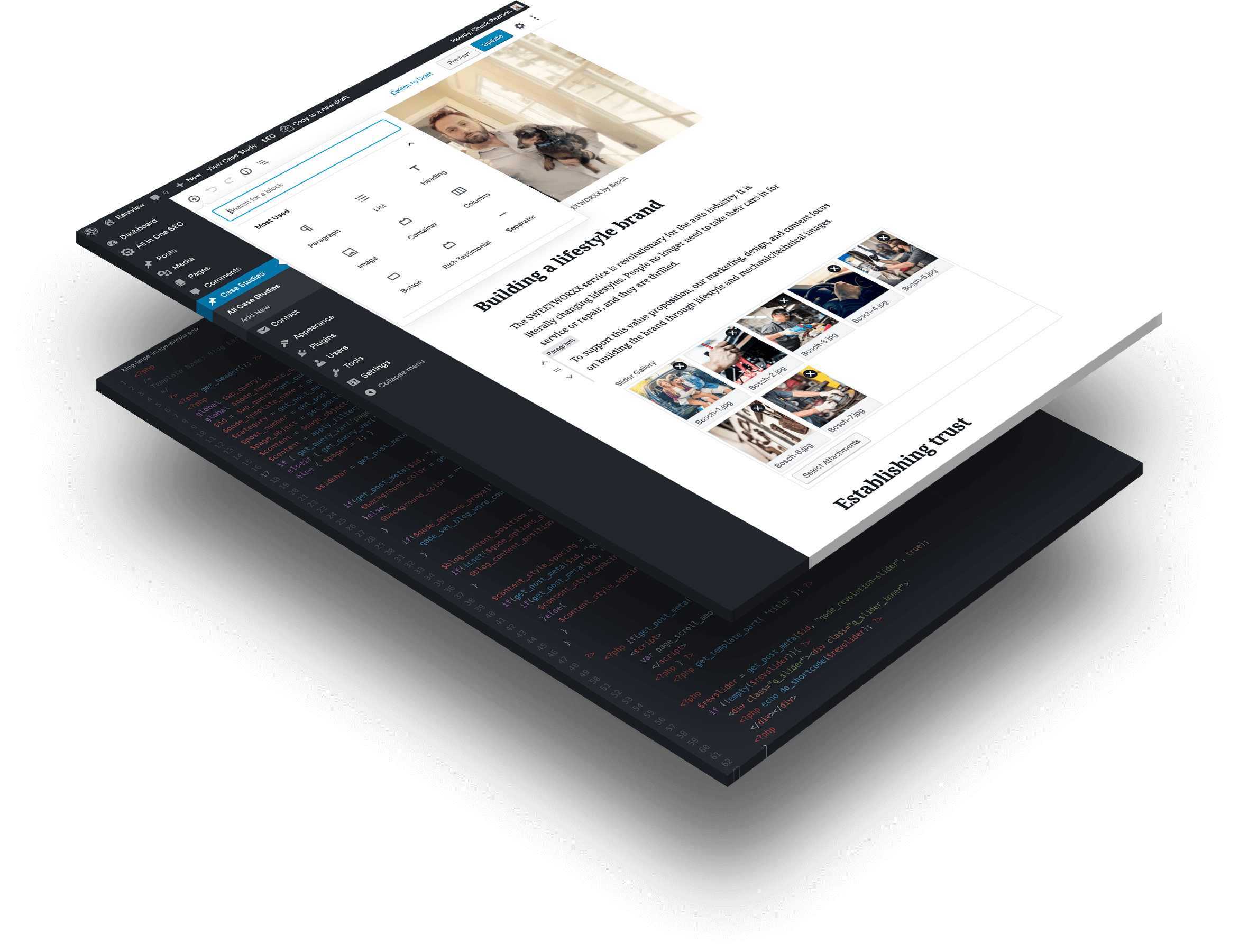 We design and build custom Enterprise WordPress sites to match business requirements.
We work directly with the WordPress VIP team on large migrations and complex site builds. Our close relationship means your project is in capable and thorough hands.
---
We can provide a strategy for your internal team on moving to WordPress and provide continued consulting and development as your site scales on the WordPress VIP partner platform.
---
Enterprise-grade hosting and support
As a WordPress VIP partner agency, we offer enterprise-grade hosting with WordPress VIP and a full suite of DevOps management including:
Security monitoring and mitigation
Uptime monitoring
Developer empowerment tools such as CLI access
Vulnerability patches
Automatic backups & redundancy measures
Caching and CDN
Cache variation
Server load balancing
Multiple environments: pre-prod, QA, production
Parallelized cron infrastructure and more
---
Questions about the security of WordPress?
Our WordPress VIP partner team has you covered. Check out these resources:
By the numbers
10x
No competitor comes close to WordPress's scale — it powers 10 times as many websites as the next largest CMS.
38B
WordPress served 38 billion pageviews last year.
60M
A single VIP customer site will serve 60 million or more requests in an average day.
1st Byte
Traffic is fully encrypted across the network, there's built-in defense against DDoS attacks, and an industry-leading time to first byte.
36%
WordPress runs 36% of the entire Internet.
500+
WordPress is the fastest growing CMS, with roughly 500+ new sites being built daily in the top 10 million sites on the web (compared to Shopify's and Squarespace's 60-80).
265
2,645 or 26% of the top 10,000 websites on the Web use WordPress.
126M
WordPress.com gets more unique visitors than Amazon (126 vs. 96 million per month).