To start things off, we have created a FigJam whiteboard where we have collected sites, layouts, navigation, and other elements to provide inspiration. It's still a WIP and shared internally.
Team updates
@Chuck is exploring some early UX layouts and is leading the sitemap creation with @Rob. @Ruby has put in about 28 hours of design time this month and is exploring layout ideas. @Stephanie is writing content.
Design
Initial design exploration
Here are some of the initial design exploration work that is currently in the works. We have been exploring various layouts, treatments, elements, and structures.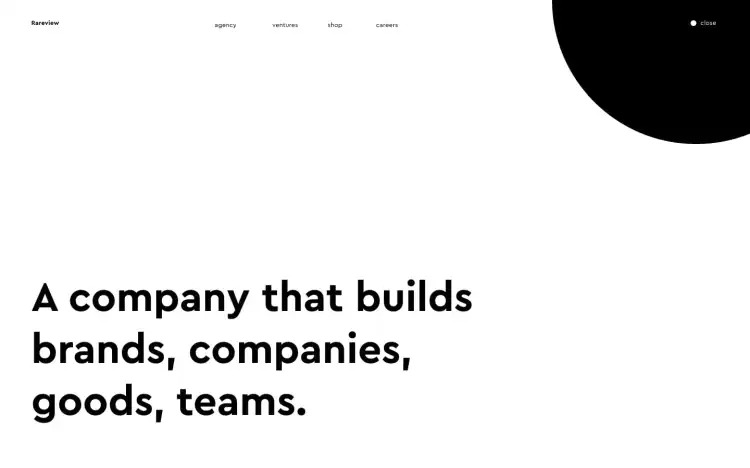 Content
Proposed sitemap
The new website will be restructured to accommodate our objectives. Here are a few important notes about the changes.
The homepage will talk about our company; thus the agency division now has its own home.
Case studies have been moved to their respective services.
The careers section is being rebuilt from the ground up to support our growth. We have partnered with Workable to handle jobs.
Our shop will be expanded and will contain items from Rareview for sale, items we have produced internally for employees (not for sale), and select items from our clients that we'd like to showcase (things we particularly love).
The news section of our current site will be moved into the Blog. The blog will contain several categories (news being one of them) and will now house writings from our engineering department for our technical journaling, as well as a new "Story." The story is created in chapters from 1-5 and correlate to the main pages of the site. Essentially, a user can visit the blog, go to the Our Story category, and read it like a book from chapter 1-5.
We will be writing a special post for our blog to celebrate 20 years in business.
The Collective is the new blog we are launching where we will work with industry vets for writings on Design, Engineering, Marketing, and Media. This is not a Rareview blog. It's a collective of industry folks sharing knowledge.
The following is our proposed sitemap.
Home/Index
Agency

Design

Case Studies

Engineering

Case Studies

Marketing

Case Studies

Media

Case Studies

About

People
Brothers
Careers
Impact
Accelerator
Partners

Initiatives
Shop

PDP

Blog

Post

Celebrating 20 years

Contact
The Collective (Blog)

Post